NETHERWORLD Haunted House is a walk-through dark attraction filled with terrifying live actors, amazing special effects, and incredible monsters.
NETHERWORLD – One Of The Top Haunts In The Country!
Click the links for more Info!
Yahoo Travel
Netherworld is warehouse-sized structure in the suburbs of Atlanta featuring elaborate sets and special effects worthy of a Disney attraction!
Hauntworld Magazine
Netherworld Haunted House is known for its over-the-top special effects, intense make-up, elaborate costuming, skilled stunt actors, unique monsters, unusual themes and chilling detail. To put it simply Netherworld is the total package – an extremely high quality immersive event that merges scary, fun and cool into a safe environment!
Huffington Post: 2014 Scariest Haunted Houses!
Netherworld in Atlanta has more than 200 animated monsters and 100 live actors, and has been featured in movies like "Zombieland." The creeps begin in the parking lot where costumed characters try to scare away patrons from even buying tickets!
Travel Channel: Travels Best Halloween Attractions!
Chloë Grace Moretz Visits NETHERWORLD!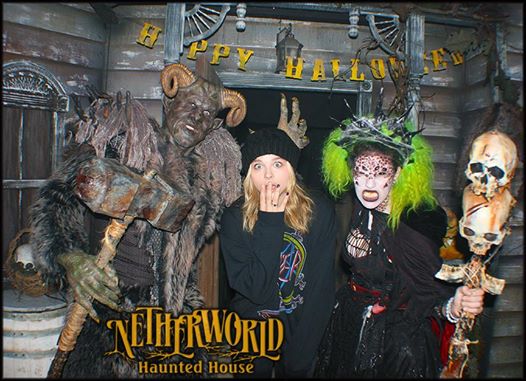 We were thrilled to have the amazingly talented Chloë Grace Moretz stop by Netherworld Haunted House for a visit! You've seen her in Carrie, Kick-Ass, Dark Shadows, Hugo, 30 Rock and in lots of other projects…her list of credits is already beyond impressive and she's just 17.
Thanks for stopping by for a scream Chloë!
Come see what Chloë and so many others are screaming about this October…and see for yourself why Netherworld was recently rated the #2 Haunted House in America by Yahoo Travel and why they said that Netherworld has "elaborate sets and special effects worthy of a Disney attraction!".
Netherworld is OPEN TONIGHT and EVERY NIGHT thru November 2nd plus two additional nights on November 7th & 8th!
Chloë is currently shooting The 5th Wave…learn the story behind this soon to be sci-fi blockbuster (where Chloë's character Cassie Sullivan tries to save humanity when an alien invasion decimates the world's population) at www.the5thwaveiscoming.com/
#chloegmoretz @ChloeGMoretz
<< Visit the Netherworld News Blog for More Stories