NETHERWORLD Haunted House is a walk-through dark attraction filled with terrifying live actors, amazing special effects, and incredible monsters.
Grand Opening for 2016 - September 23rd!
​
​
​
History of The Haunt – NETHERWORLD Haunted House Year 14 – 2010
History of NETHERWORLD Haunted House Year 14 -2010 Gargoyle and Dead Salvage – Part 2 of the Blood Night saga sees an invasion of Gargoyles betraying the vampires in an all-out assault on both humans and undead. Dead Salvage explored the return of the Mangler as he began creating zombies with robotic parts in an indoor junkyard!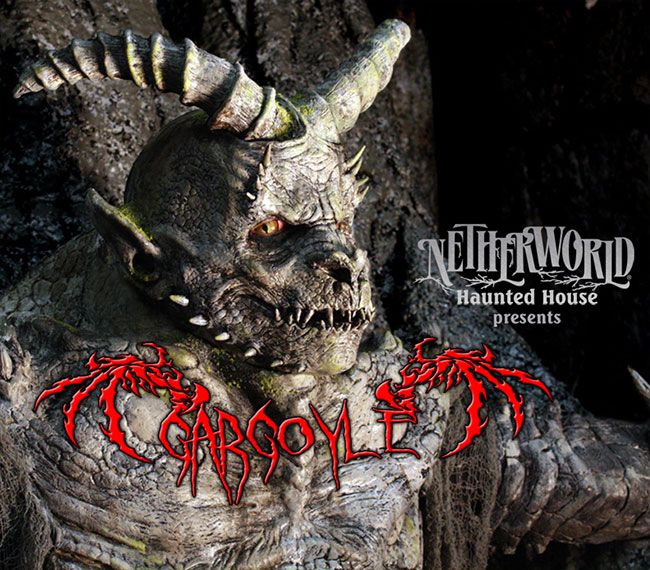 GARGOYLE
The skies fill with horror as GARGOYLES invade our world under the cover of the endless Blood Night! Will a group of human mystics allied with the Vampire Lord Ghoulich be able to stop them, or will the earth fall to the winged fiends and their foot soldiers the Krampus Monsters? The fate of the Earth teeters on the brink in NETHERWORLD: GARGOYLE!
NETHERWORLD cranks it up all the way with a monster fest of epic proportions! See the 17 foot tall GARGOYLE KING feasting on his prey! Flee from gargoyles flying, swinging and crawling as they hunt for flesh! See a huge collection of REAL bones in the skull room, escape a house swarming with the supernatural as floors crack open, furniture comes to life, ghosts appear and coffins almost crush you! Confront the EYE and enter the mind warping Infernal Contraption! More monsters, more scares, more scenes, and more pure terror at every turn than ever before in NETHERWORLD: GARGOYLE!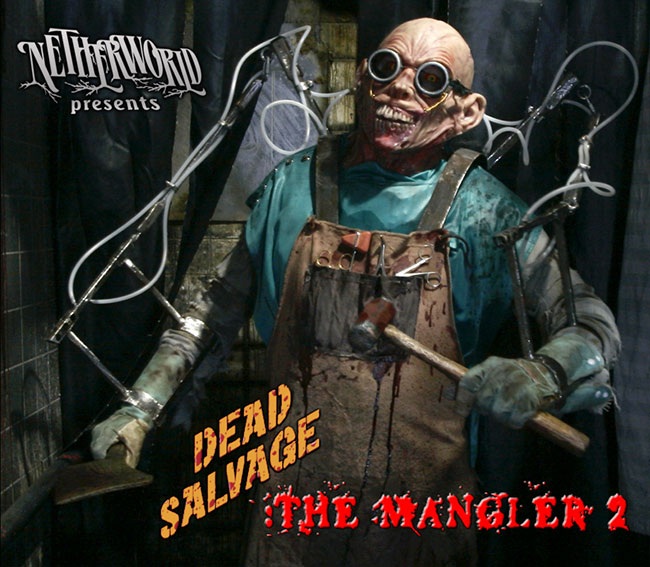 DEAD SALVAGE
The twisted medical deviant, the Mangler, returns to carve his way even further into your nightmares! After escaping from NECROTECH Labs he has now set up shop in an indoor junkyard and surrounded himself with even more savage freaks to help with his experiments! Can you escape his underground lair before you become his next patient in DEAD SALVAGE?
Descend to the subterranean levels below NETHERWORLD to come face to face with the MANGLER once more in Dead Salvage! Escape his twisted freaks and medical assistants if you can, as he melds flesh and metal together to create an army of sick zombie cyborgs! See The Acid Room, The Drowning Tank, The Flesh Compactor, and escape mechanized death in many forms as the haunt grows even bigger this year! You may escape with your life, but not your sanity! This season, the gore and horror get supersized in DEAD SALVAGE!
REVIEWS FROM 2010
2010 Reviews
Voted The #1 Haunted House in America
– Hauntworld Magazine
The detailed sets make other haunted houses look like elementary school Halloween parties. Add the insane robotics and sheer size of this place, and you've got a haunted house that will make you think you've died and gone to hell.
– MTV Clutch
Named one of the nation's "Spookiest Haunts" by ABC's Good Morning America
Recognized in USA Today as the #1 Haunted House in America
Walking through Netherworld Haunted House is like stepping into a horror movie.
– 11Alive.com
Netherworld remains, quite possibly, the most intense haunted attraction… It is absolutely the most original… Netherworld has a very distinct bulldozer of a personality that makes it stand severed head and shoulders above the rest. You'll never EVER mistake Netherworld for another haunt.
It is proudly and steadfastly its own thing.
– BehindTheThrills.com
By far the best haunted house we've ever been to
– Jezebel Magazine
You'll never find a haunted house that has more passion for scaring people, certainly not anywhere in the Atlanta area…Netherworld isn't just a haunted house; it's an experience. Bring all of your favorite people with you, and get ready to make some memories that you'll never forget".
– Examiner.com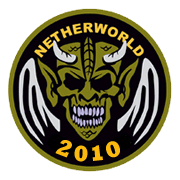 History of The Haunt – NETHERWORLD Haunted House Year 13 – 2009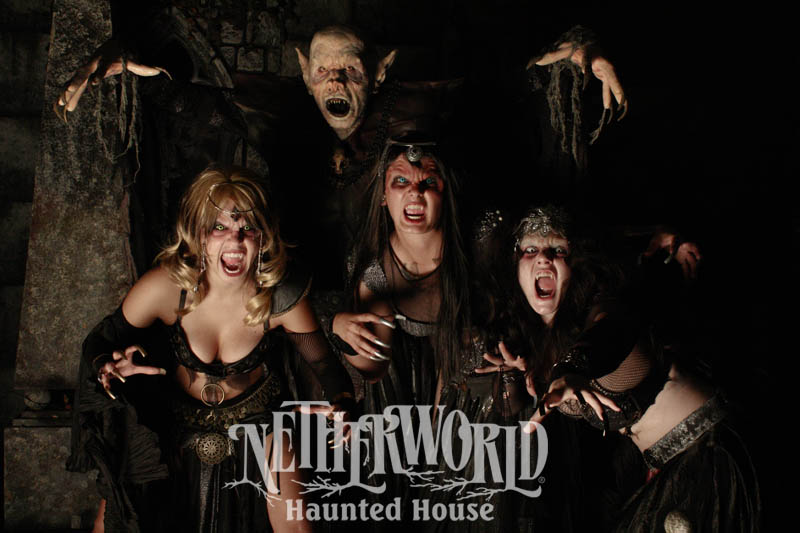 History of NETHERWORLD Year 13 2009 – Blood Night and Zombie Rampage – In Blood Night the vampire lord Ghoulich devised a plan to black out the Sun so that vampires and creatures of the NETHERWORLD could ravage the earth without the fear of daylight. In Zombie Rampage, special chemicals developed to help soldiers fight better and to heal wounds get added to a popular energy drink, and when spilled into a local graveyard cause a…you guessed it… zombie rampage!
Goulich the Foul once more heard the whispers from the abyss. They would send Goulich's Blood Knights; his most powerful undead warriors to collect heads from the 13 clans of earth bound fiends. Once these 13 skulls were assembled, and the words were spoken the world would enter into the Blood Night, a time of chaos when the dead would rise and the Old Ones would walk the earth once more. Then at last mankind would be little more than terrified helpless food.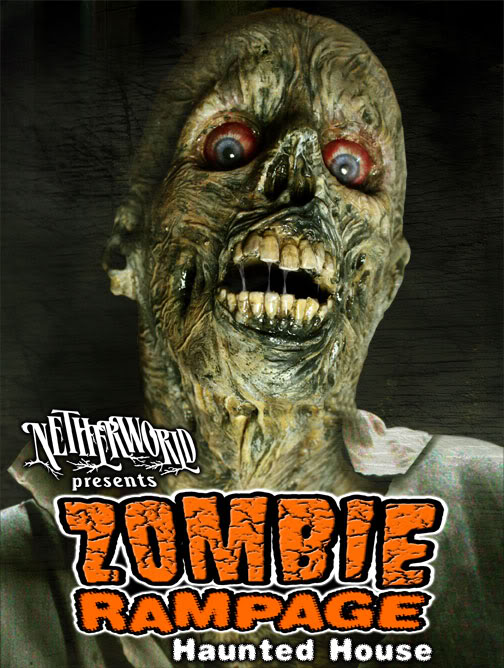 This cutting edge "extreme" beverage is taking the market by storm! Created by Necrotech Labs, this is the first product in the food industry designed by a pioneering bioweapons defense contractor! Using chemicals developed to make our soldiers fight harder and longer, it's no wonder ZOMBIE RAMPAGE can help you study for that test or drive 18 hours in a row during spring break!
Although ZOMBIE RAMPAGE is still awaiting FDA approval, we can now offer this tasty and powerful elixir on a limited basis to specialized markets through this excusive offer!

Reviews from 2009
#1 Hometown Haunted House in America
– Fangoria
Rated the #2 Haunted House in America
– Hauntworld.com/Hauntworld Magazine
Rated the #4 Haunted House in America by AOL Digital City
The performers are outstanding, the movie quality special effects are riveting and the detailed sets are chillingly unique. If you're a diehard thrill-seeker, this is one attraction that will scare the jeepers creepers out of you.
– AOL Digital City
"Hands down the best haunted house in Atlanta…it resembles more of a horror film than your old-school haunted house.
Expect to get the hell scared out of you in the parking lot,
so you can imagine what awaits inside."
– Citysearch Atlanta
#2. Netherworld – Atlanta, Georgia
"Netherworld is truly an awe-inspiring haunted house."
– Horrorbid.com
Rated The Scariest Hau
nt in the Eastern U.S. Region
– Rateahaunt.com
"This top-rated haunted house is not for the weak-kneed or the weak of heart – but isn't that the point?"
– Where Atlanta Magazine
"At this haunted house, you'll find scary stuff that seems to come straight from the set of a horror movie…nothing at NETHERWORLD is done on an amateur level."
– 10best.com