NETHERWORLD Haunted House is a walk-through dark attraction filled with terrifying live actors, amazing special effects, and incredible monsters.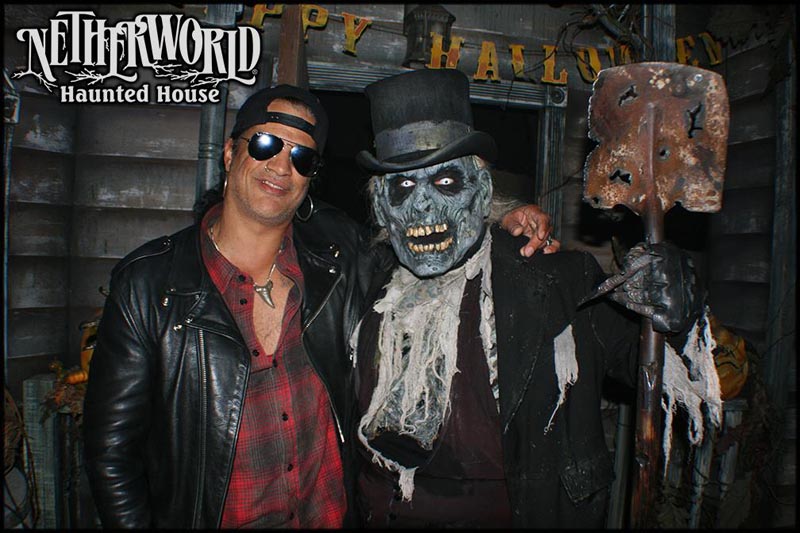 Here is the inimitable Slash on his recent visit to Netherworld Haunted House!
Beyond being an amazing talent, Slash is someone who truly loves and appreciates creepy stuff, so we were way beyond flattered when he told us "I've never seen anything this cool"…seriously, how is that even possible…this guy has had to have seen everything, or close to it…and that's no exaggeration.
Thanks so much for the visit and the very kind words Slash, and thanks for taking to social media and telling folks "If you're n Atlanta, u have to go to @HauntedAtlanta it is literally the coolest scariest creepiest haunted house will ever visit. iiii]; )' " We are truly without words.
Thanks also to our friend Eric Pigors of Toxictoons for helping to make Slash's visit possible.
Netherworld is only open a few more nights, so don't miss your chance to see what The Travel Channel calls a "A Hollywood Caliber Haunt Mecca!"
Netherworld is OPEN TONIGHT and EVERY NIGHT thru this Sunday, November 2nd…then just two more nights…Fri. Nov. 7th and Sat. Nov. 8th. These are your final nights to visit "Season of the Witch" and "Spliced"…next year these two shows will be but a memory and we'll return with two brand new haunts for you to brave.
For more info or to Buy Tickets Now visit HERE
Foster The People at NETHERWORLD!
Foster The People's frontman Mark Foster and touring member Isom Innis dropped by Netherworld Haunted House while passing through Atlanta on their current tour. They had a blast and even stopped for a pic with one of our less gruesome, but equally scary ghouls. Thanks for taking the detour to visit guys…glad you all had fun!
To learn more about Foster The People Click HERE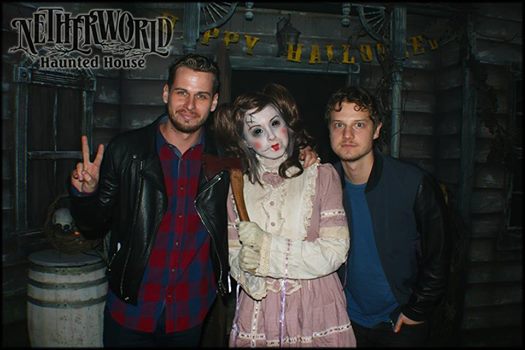 The season is really winding down here at Netherworld, only a few more chances to see for yourself what Mark and thousands of others are screaming about! Netherworld is OPEN TONIGHT and EVERY NIGHT thru this Sunday, November 2nd and then just two more nights on November 7th & 8th.
These are the final nights to see "Season of the Witch" and "SPLICED"…next year they will be replaced by two all-new haunted adventures!
Buy Your Tickets Now Before It's Too Late at http://bit.ly/NetherworldTix
<< Visit the Netherworld News Blog for More Stories