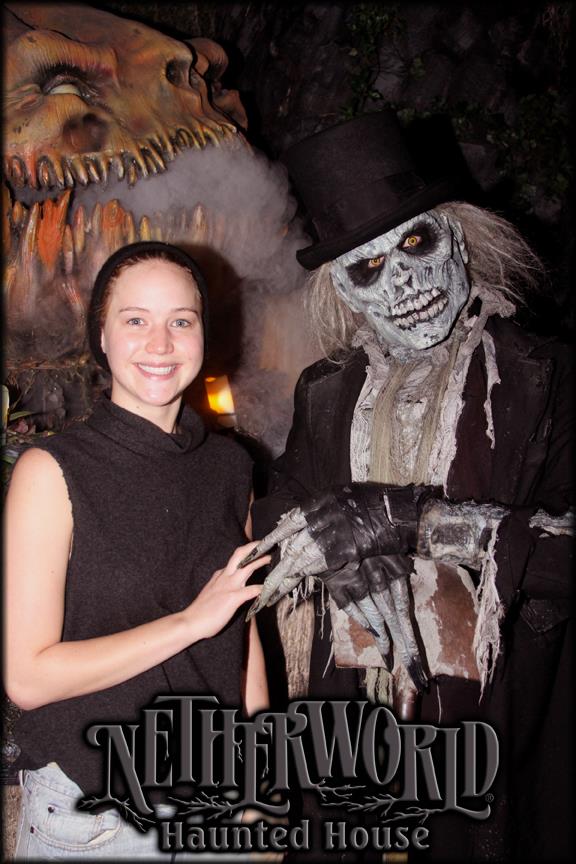 Rolling Stone once called Jennifer Lawrence "America's Kick Ass Sweetheart" and we'd have to say that we wholeheartedly agree. The Oscar winner stopped by Netherworld Haunted House for the second straight year and this time brought her Hunger Games co-star Woody Harrelson along for the ride. Upon exiting Netherworld, Jennifer gleefully and repeatedly exclaimed "that was terrifying!". Fellow cast-mate Jeffrey Wright joined the pair, this his second time visiting Netherworld this season. We thank their entire crew for being so kind and enthusiastic about their trip through the Netherworld…all were as genuine and as "real" as can be.
Be sure to see Katniss, Peeta, Haymitch, Beetee and the rest when The Hunger Games: Catching Fire hits theaters and IMAX on November 22nd!
http://www.thehungergamesexplorer.com/us/
In the meantime, there's only a few short nights left to experience Netherworld 2013 for yourself. Each year Netherworld undergoes major renovations so it won't be long before our 2013 shows "The Dead Ones" and "Boogeyman" are but a memory.
Netherworld is OPEN TONIGHT and Every Night thru this coming Sunday, November 3rd…that's three days after Halloween…so no "I couldn't go, I was trick-or-treating" excuses
Buy Tickets Now at http://bit.ly/NetherworldTix