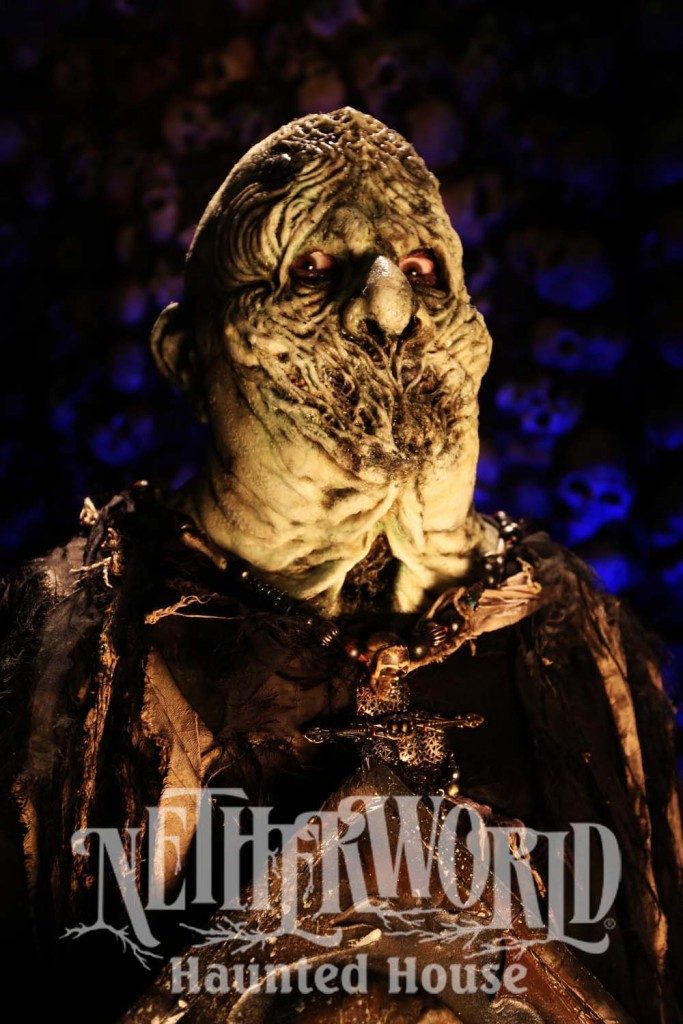 Now the final entry into our 19 episode look back at the history of NETHERWORLD Haunted House – The 2015 Haunts – Year 19 of NETHERWORLD – The Rotting and Vault 13: Unearthed
The invading ghosts are draining the life from people causing them to become energy starved zombies called The Rotting! Vault 13 is taken over by an Artificial Intelligence called Proteus that uses its robotic defense systems to capture the Mangler and his clone creations.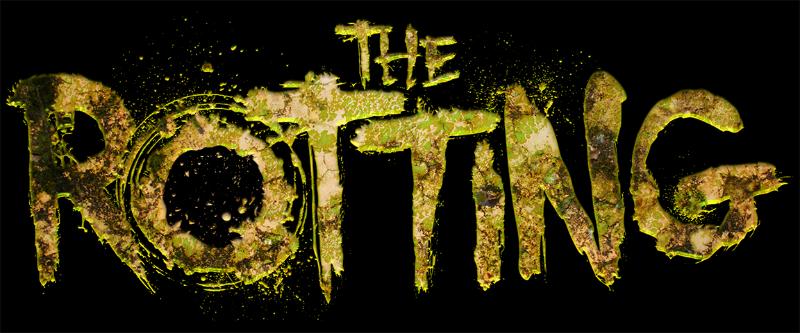 THE ROTTING
The witches have released vast armies of spirits from the depths of the NETHERWORLD to appease the DEAD ONES, and these spirits must feed! Drawn to the life force of human beings they drain the energy causing their victims to suffer THE ROTTING, a decay of the body accompanied by a ravenous hunger! A supernatural investigation team, G.H.O.S.T . has discovered the supernatural source of the plague, but will the cure be worse than the disease?
New horrific experiences in THE ROTTING include: The Phantom Energy Chamber, The Mummies Curse, The Spectral Gallery, The Sinking Tombs of Whyshburg, The Boswick's Revenge, The Alien Flesh Lab, The Slithering Soul Eater, Engulfed by the Shoggoth, The Arena of Ghosts, The Walk Of Peril, The Elder Thing, The Rotting Dead and the War Wraiths! A supernatural shock fest full to the brim with never ending terror!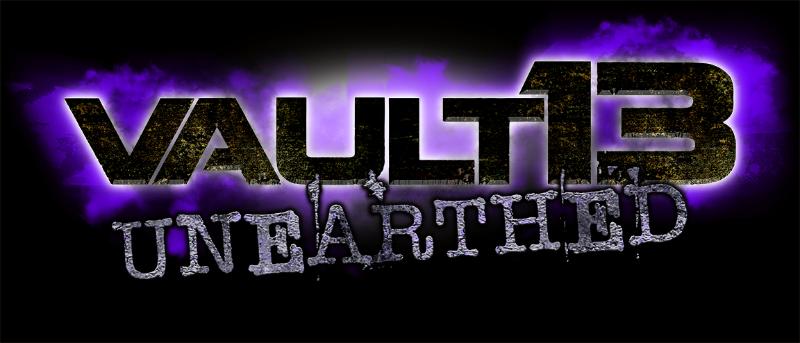 VAULT 13 Unearthed
Before the Mangler began torturing human beings, he created an AI (Artificial Intelligence) called PROTEUS to experiment on and drove it completely insane. It evolved into a living computer virus and sought out its creator demanding a body. Enraged at the Mangler's lack of response, PROTEUS reactivated VAULT 13 and commanded secret ops security teams to capture the Mangler and his clone creations. Successfully locking them in VAULT 13 it continued its quest to create a living body and take revenge on the entire human race!
New dark secrets of VAULT 13 include: The Elevator of Death, The Toxic Foam Room, The Invincible TORG, The Hideous Hatchling, The Mechanoids, The Liver Eater, The Massive Defense Grid, The Hypno Room, The Steel Vault, Nurse Nervosa, Sample V-37, and the Wind Tunnel! A brain blasting sci-fi horror adventure sure to melt your mind!
REVIEWS FROM 2015
"Our number one pick is an overwhelming thrill-packed, supercharged Halloween horror show that has been winning awards and dominating Atlanta, Georgia for 19 years. Every October huge crowds come from all over the country to see Netherworld and to soak up the combination of incredible production value and absolute nightmares that it provides. Customers and haunted house industry experts agree that this terrifying attraction is the most elaborate, creative, and influential haunt around. Famous for custom monsters, new themes every year, impressive special effects, and an unrivaled collection of props and artifacts, it is the freaky actors and gut-wrenching makeup that put Netherworld at the head of the class."
DREADCENTRAL.COM
"This year marks the 19th year that co-creators Ben Armstrong and Billy Messina have made Netherworld one of the premiere haunted house locations in the world. With two new haunts: The Rotting and Vault 13, visitors this year can expect to be wowed by new sets, enhanced special effects and brand new creatures.
Aside from the two haunts, there's also the characters which are outside every year. While we saw a few of the classics (my personal favorite one at the top below), there are a few new creatures roaming around too. There's also a few great photo ops as well!
Check out a few national accolades that have been bestowed upon Netherworld for 2015:
• #1 Best Haunted House of All Time (HauntWorld.com)
• #7 of the Top 19 Insane Haunted Houses That'll Literally Scare the Sh*t Out of You
• Travel Channel's Best Halloween Attractions 2015
• #9 of the 10 Best Extreme Haunted Attractions for USA Today (Reader's Choice)
• 2015 Reader's Choice Award for Favorite Haunted House (Georgia Magazine)
• #4 of the Top 10 Best Haunted Attractions of 2015 (MonstrumAthenaeum.org)
• #2 List of 31 'Must See' Attractions for 2015 (HauntedHouseRatings.com)
• #5 Top 15 Scariest Haunted Houses in America 2015 (ParanormalBuzz.com)
• LA Times' 10 Creepiest Halloween Haunts in the U.S. (LATimes.com)"
FANBOLT.COM
"With movie quality special effects, unique themes, and intricate sets, Netherworld has definitely earned its place as one of the country's most visited haunted destinations…Make sure to check out this haunt if you're anywhere in the Southeast this October!"
ILOVEHALLOWEEN.NET
"If you're in the area, definitely need to check this one out as they have some really awesome stuff going on and are constantly improving and pushing the boundaries of what's possible. Not only with story, but the insane creations that live within its walls."
KITSUNEVERSE.BLOGSPOT.COM
"NETHERWORLD has plenty of clout in the haunting business. In their almost two decades, their haunt and crew has been involved in a couple of large Hollywood horror films. Zombieland filmed some of their sections at NETHERWORLD, and Rob Zombie used a lot of the props and a lot of the crew to film Halloween 2. Just to add to the Hollywood cred, a good number of the crew members worked on The Walking Dead.
What does all that mean for NETHERWORLD? It means that you can expect intricate sets, movie-style special effects, and make-up that is so realistic you'll get chills before the actors even do anything. The crew is also used to creating incredibly detailed and realistic sets from the ground up, and they put that skill to the test. Every year they build two completely new haunts. As you might guess, this gives NETHERWORLD an extremely loyal following who come back every year for new scares.
While the sets and effects themselves are impressive, the haunts are brought to life by the cast. The actors are given intricate make-up and costumes, and they definitely make the most out of them. Expect plenty of scares, chills, and outright terror."
USASBESTHAUNTEDHOUSE.COM
"Hold on to your blanky, because this haunted house will make you scream like a baby. All jokes aside, this terrifying attraction is only for the bravest of heart –in fact, the production-quality sets, makeup, costumes and believably horrifying actors make this experience too real for our own editor, who has never gathered enough gumption to go. But don't follow in her cowardly footsteps. The Travel Channel called this 'the most over-the-top haunted house on earth,' so you know it's a must-see."
WHERETRAVELER.COM
"Consistently for the past several years, Netherworld's been listed as one of the top haunted attractions in the U.S. in no small part due to its high level of creativity and originality.
This haunted house attraction on the outskirts of Atlanta garnered rave reviews from horror mag, Fangoria, writing that Netherworld 'is the #1 Hometown Haunt in America.' On top of that, this venue hosts tow haunted houses for you to explore while crying out for your momma.
Annually, the haunt picks a new theme and redesigns many aspects of the attraction to ensure repeat visitors have unique experiences. Netherworld's also credited with being among the first haunts to utilize buttons on the floor to alter the show. They're also highly committed to using only the finest quality actors, props and set designs."
MONSTRUMATHENAEUM.ORG
"As October approaches, Atlanta residents' thoughts turn to their very own Halloween tradition: NETHERWORLD Haunted House! Generations of Georgians (and visitors from all over the world) have attended this legendary haunted attraction seeking the intense thrills and chills it serves up every year to an ever-growing legion of loyal fans.
Consistently voted among the top 13 Haunted Houses in America by the media, haunt industry publications, and guests alike NETHERWORLD has raised the bar once again with new special effects, over-the-top sets, and terrifying actors.
'Opening night is always a blast, says co-creator of NETHERWORLD Haunted House, Ben Armstrong. 'To finally get to see people enjoy, and often run screaming from what we have worked on all year is very gratifying! Each season is like a sequel, full of new amazing things, keeping the favorite parts our fans love'"
GETAWAYSFORGROWNUP.COM
"Netherworld Haunted House is a haunted house like none other. The costumes and the decorations are unbelievable. You will make your way through different galleries and will be sure to get a few frights. The theme changes annually…I recommend doing both (haunted houses)."
VERBALGOLDBAG.COM
"This classic haunted house is open all month long…Named one of the scariest haunted houses in the world year after year, it's worth the trip outside the perimeter to have the pants scared off you."
ATLANTA INTOWN
"…Netherworld cont
inues to be one of the leading haunted house events in the country. Since 1998, the dark-themed walk through attraction has been conveniently located in an airy, multi-level warehouse just north of Spaghetti Junction in Norcross. Unlike many such destinations, Netherworld utilizes its own original and elaborate themes while veering away from tired old slasher movie characters and themes."
INSITE ATLANTA
"Arguably one of the most acclaimed Halloween attractions in the country, Netherworld attempts to reinvent itself each year for its throngs of frightened fans."
ACCESSATLANTA.COM
"No Halloween holiday is complete without a haunted house, and Netherworld knows how to ignite the fright! Atlanta's scariest haunted house returns through November 8th and is filled terrifying live actors, amazing special effects, and incredible monsters and sci-fi gore."
BECKYMORRIS.COM
"Netherworld received our stamp of approval and made our Travel Channel's Best Halloween Attraction last year, and again this year. It has 2 new features, including the Toxic Foam Room, where patrons step into this one-of-a-kind decontamination chamber after exiting Vault 13. Getting soaked with fresh bubbles down a long hall may not be scary, but it's popular among regular customers. And step onto the new Elevator of Death. Up to 20 people can ride the elevator down to Vault 13, but be prepared for the flickering lights and bumpy descent. It's a favorite of fans and haunted house experts. 'Netherworld is one Hauntworld's scariest haunted houses because they spend a long time developing one-of-a-kind costumes, masks, animation and set design that can only be experienced in Atlanta,' Larry Kirchner."
TRAVELCHANNEL.COM
Do we really need to say once more how much fun we have at Netherworld in Norcross, Georgia? I guess we do! The Rotting and Vault 13 are prepared to accept new victims. Each haunt is just as thoroughly detailed as always, and the characters are ready for you from every possible angle.
As you are already aware, if you have read past reviews of Netherworld from us, we are huge fans. It is a delight to visit and become encapsulated in the world Ben and Billy have imagined for us. The details are so well layered and considered that you can easily forget where you are and that you chose to enter into this journey of your own free will. When you encounter monsters they will be full interactive (yes, you may get touched…we love that), so just remember your own monster manners and that this is all in fun.
Netherworld consistently receives our highest five severed heads rating and we encourage anyone who wants to take a trip into the fantastical world for a bit to make the trip to Norcross and meet with your own nightmares. Happy haunting!"
HAUNTREVIEWERS.BLOGSPOT.COM
"Netherworld has one of the biggest followings in the world, and clearly is the most famous haunted house in America."
HAUNTEDHOUSEASSOCIATION.ORG
"No top haunts list would be complete without the inclusion of Netherworld Haunted House in Atlanta, Georgia. This top-notch haunted attraction is more than a few cuts above the rest and consistently delivers scares and thrills that tap into every imaginable fear. With a critically-acclaimed cast of actors, state-of-the-art effects and animatronics, makeup and costuming to rival Hollywood's best, Netherworld is a sense-shattering rush of adrenaline guaranteed to elicit the perfect blend of heart-pounding screams and nervous laughter. Since its debut in 1997, the fiendishly creative minds behind Netherworld Haunted House have continued to challenge themselves to raise the bar in themed attraction-haunted or otherwise-making them a perennial member of any Top 10 list regarding haunted houses and Halloween happenings. This ever-evolving house of horrors is sure to delight those seeking a memorable jolt of spirited seasonal fun, placing visitors in the thick of its nightmarish vision from the very moment they arrive. Garnering a wide array of well-deserved media coverage and critical accolades, Netherworld Haunted House should be place very high on every Halloween 'must see' list."
SPACECOASTDAILY.COM
"Stepping into Netherworld feels like stepping onto a movie set. The special effects are so top-notch and over-the-top impressive that even as you may be screaming because someone dressed up in a very realistic corpse costume lurches out in front of you, it's hard not to stand, mouth-agape marveling at the skull walls, cushy, cemetery-esque footing, creepy ambiance, and extraordinary 'WOW' of it all.
Netherworld assaults the senses with so much to hear, look at and absorb that while on the one hand you feel compelled to run through to safety, on the other you want to linger and try to look around to appreciate everything. It's realistic…and ultimately as scary as you allow yourself to believe.
Recently named the No. 5 'Scariest Haunted House in America 2015' by Hauntworld.com, and one of the nation's 'Top Halloween Attractions' by The Travel Channel, this year features amazing new sets, intense special effects and weird creatures found nowhere else (thankfully)."
GETAWAYFORGROWNUPS.COM
The haunted house in Norcross known as Netherworld has been around since 1997. A self-guided walking tour through acres and acres of spooky stuff, the attraction is an expert amalgam of special effects and specially-made-up performers, all engineered to scare e you socks off (assuming you're wearing socks). This year's themes are 'The Rotting' and 'Vault 13: Unearthed.' And don't take my word for it: organizations as diverse as The Travel Channel and Hauntworld have voted it one of the top Halloween experiences in the country.
ATLANTA BUSINESS CHRONICLE
"It's that time of year again: the ghouls, goblins and monster are out, and they have all come together at the one and only, NETHERWORLD Haunted House, voted the scariest attraction of all time by Hauntworld and consistently ranked as one of the best haunted house in America since its opening 19 years ago, this is definitely one you don't want to miss this Halloween!
With not one, but two exciting Haunts to choose from, you'll just want to do them both!
NETHERWORLD is so scary that people are claiming to be 'legitimately traumatized.' So, if you're brave enough to get scared and submit yourself to these terrifying monsters, step on up to NETHERWORLD Haunted House and enjoy the experience."
ATLANTAREALESTATEFORUM.COM
"The infamous Netherworld, voted number one haunted house in America, will not disappoint as the monsters and haunted sets will feed off of your phobias of tight spaces, the unknown, the dark and of course, the unexpected.
With a background of film and television, the owners of Netherworld are continually creating new special effects, unique rooms and scarier contraptions. The creativity and elaborateness of each room is what separates Netherworld from the rest of the haunted houses in Georgia.
'One of the biggest things at Netherworld is distractions.' Ben Armstrong, the co-owner of Netherworld said. 'There's so much cool stuff to look at. It just draws people into the world and then they're easy prey.'
Overall, Netherworld lives up to the high expectations. The long lines build the anticipation to a night of terror you do not want to miss. The monsters are original, the haunted houses are fantastically creative and the experience is one that will leave with a sense of exhilaration and fear."
KSUSENTINEL.COM
"Netherworld Haunted House in Norcross is by far the best haunted house in the Atlanta area. You've probably heard about them before, and yes, the hype is true. Year after year, they never disappoint with their quality horrors. Perhaps the most theatrical and well-planned of the haunted houses in Georgia, Netherworld is in what looks like an abandoned warehouse, but the set production inside is up to par with that of a movie set or theme park. It is super intricate with each phase of the house being scarier than then last. You'll leave emotionally and physically drained because chances are you freaked out so hard…This is a must-do before you leave Emory, because chances are your hometown doesn't have anything to match."
HERCAMPUS.COM
"To describe how I felt entering 'one of the best haunted house of all time,' the word 'nervous' doesn't do it justice. I was terrified as I stepped into the dark halls of Netherworld last week. And for good reason – I screamed, jumped and held on tight the entire time. If you're looking for a haunted house with wicked sets, elaborate costumes, and chilling special effects, head to Norcross and check it out for yourself. Just don't go alone.
Netherworld has been good for the economy – hiring approximately 380 workers each Halloween season."
Sarah Funderburk, SPR Atlanta, THE ATLANTA 100