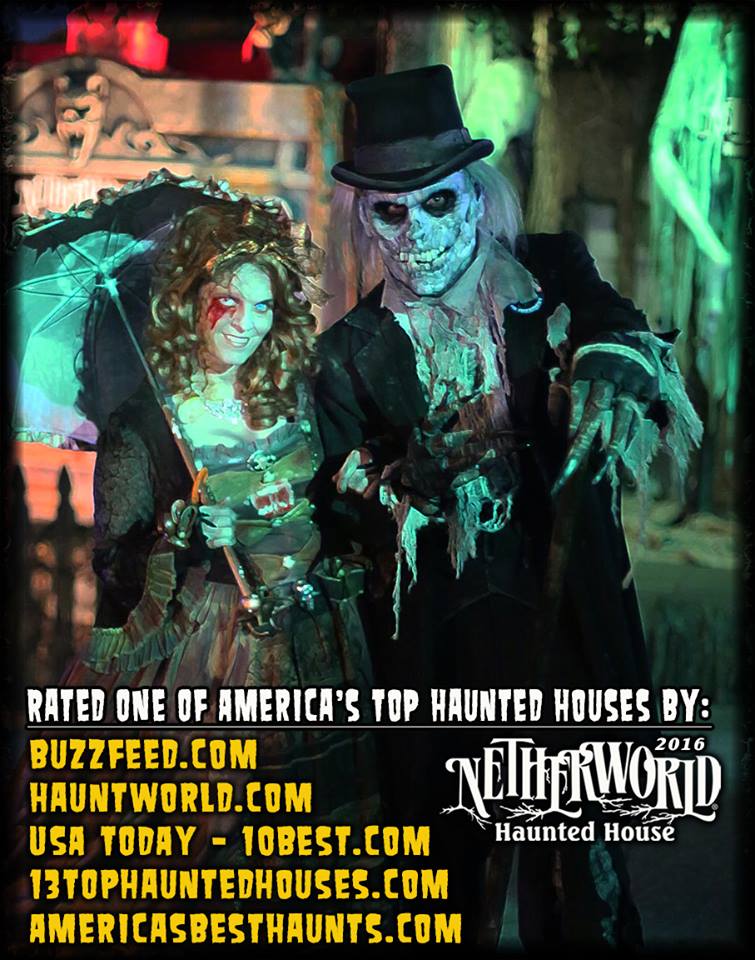 Wow ~ the accolades keep rolling in! Netherworld Haunted House has now been rated one of the Top High Tech Haunts in America AND as having one of the Best Haunted House Casts by Hauntworld.com — PLUS, Netherworld has been named One of America's Best Haunted Attractions according to a USA TODAY Reader's Poll!
USA Today: "incredible sets, animatronics, special effects and make-up"
Hauntworld on High Tech Haunting: "Netherworld may have more animations than any haunted house in the World. Netherworld is the master at creating their own special fx from scratch"
Hauntworld on the Netherworld Acting Staff: "Netherworld has the wildest actors in the industry with an over-the-top make up department, custom icon characters, sliders, actors running the parking lot, and 100's more actors inside all to make you scream! Netherworld has the best actors in America."
Netherworld was also named The #1 Haunted House of All-Time by Hauntworld in 2015!
Netherworld is OPEN TONIGHT and Every Night in October plus two additional nights Nov. 4th and 5th
Come see why Netherworld is consistently rated one of the top haunted houses in the world! Get Your Tickets Now at http://bit.ly/NWHH2016 and join us as we celebrate 20 Seasons of Screams, Laughter & Fun!
NETHERWORLD HAUNTED HOUSE – 6624 Dawson Blvd. – Norcross, GA 30093