2000 – Year Four of NETHERWORLD Haunted House!
Our main theme in 2000 was Primeval, a storyline based on time travel and prehistoric creatures. It was quite a challenge for the artists and crew of NETHERWORLD to come up with dinosaurs, man eating plants, massive spiders, beast men, saurian warriors and all manner of ancient evils to populate the world of PRIMEVAL, with most of the props and creatures being made completely custom for the event. This year also had NETHERWORLD"s second exploration into wild visual effects seen through ChromaDepth glasses called the EXTREME 3D Haunted Mansion, and for the first time an additional haunt was constructed and run off site at another location several miles away. This event was known as BLOODFEAST, and featured a guided tour of a replica medieval torture chamber complete with extremely gory props and very twisted scares. The year 2000 was a very successful one but the difficultly in running two different locations made the season crazier than most! In the years to come as NETHERWORLD grew larger and took more square footage in the Georgia Antique Center the decision was made to keep everything in only ONE location!
Check back soon for a further look into the twenty year history of NETHERWORLD Haunted House!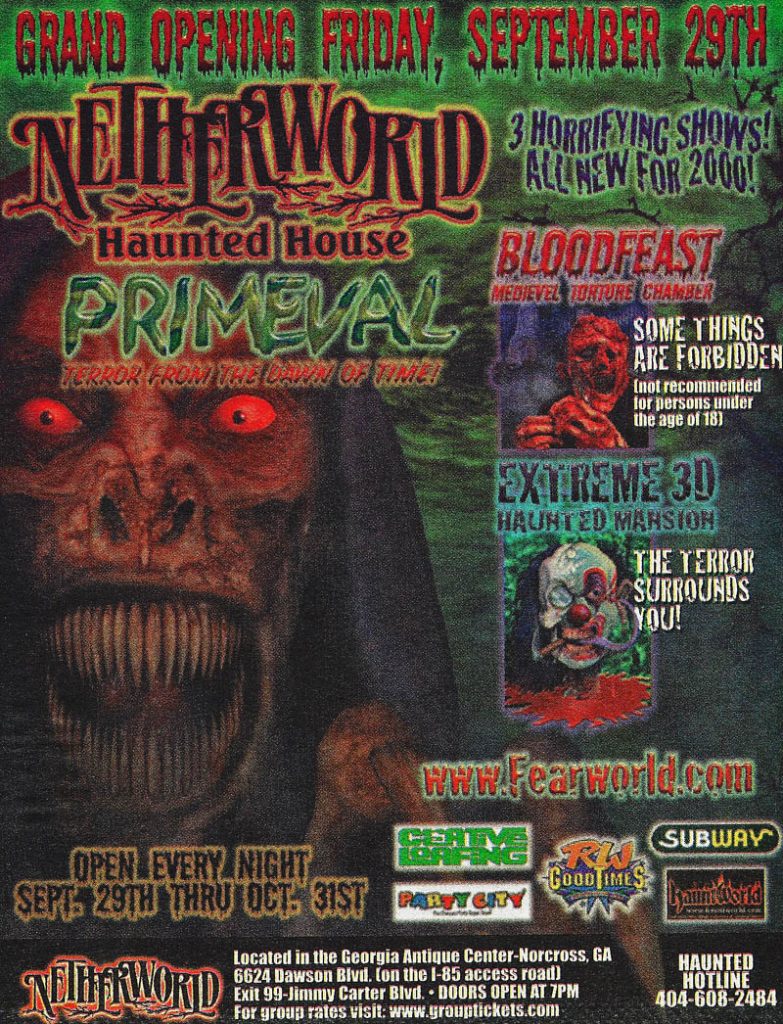 Hurled through time and space by a madman! Lost on A Prehistoric Island swallowed by the Pacific Ocean eons ago! Hunted by Saurian Warriors and Primal Vampires!
And now things are about to get bad!
Deep below this savage land, an even greater horror has awakened! Find your way to its spawning grounds and you may survive…

Experience a BRAIN BENDING adventure in 3-D Technology! Walls move, floors crawl, you won't believe your Eyes! The special ChromaDepth glasses TWIST reality in ways you cannot imagine! Explore an old mansion filled with Spectral Inhabitants and A Graveyard of Grotesque Ghouls!
The Terror Surrounds You!

"The Dead have returned to torture the Living… to gulp down their blood and feast on their flesh!"
In 1982, a wall in the catacombs of Glamis Castle in Scotland was removed during restoration and renovation. Sealed behind it was a horrific torture chamber, complete with the mummified remains of its final victims. When the chamber was purchased by a wealthy businessman in 1994, it was moved to the United States and displayed in his wine cellar to amuse guests at his Halloween Party.
What occurred on that night will shock you, disgust you and might even kill you!
Because Tonight It Happens Again!
REVIEWS FROM 2000
"A triple bill of blood-curdling thrills."
– atlanta.citysearch.com
"Nationally recognized after just four years in existence."
– atlanta.citysearch.com
"Scare-licious."
– AJC
"Tingles the spine."
– Gwinnett Daily Post
"The people in charge of the Netherworld Haunted House probably need some serious psychiatric help and medication—but Halloween will definitely be a little more frightening and surreal until they do."
– The Technique
"Netherworld 2000—it's smarter than the average scare."
– The Technique
"A huge self-guided maze that frightens at every turn."
– Southern Voice
"No headstone is left unturned to scare the living daylights out of you."
– Southern Voice
"Hands-down the most original and exciting haunted house experience in Atlanta."
– Forsyth County News
"The creations are top notch…they breathe and move in animatronic amazement."
– Forsyth County News
"The scares are genuine."
– Forsyth County News
"Serious goose-bump potential."
– Forsyth County News
"The most effective use of 3-D I have seen to date."
– Forsyth County News
"A really wild experience."
– Forsyth County News
"When you come out, you can't help but smile. The Netherworld is a great Halloween experience."
– Forsyth County News
"In case you haven't heard, Netherworld Haunted House is the place to be this Halloween! It takes the Halloween spirit to an entirely new level with the granddaddy of all spook houses."
– Gwinnett Loaf
"Guaranteed to have you screaming and begging for more."
– Gwinnett Loaf
"Atlanta's premiere haunted house."
– Creative Loafing
"One of the most spectacular haunts nationwide."
– What's Up Atlanta
Netherworld named the Feature Attraction of The Observer's "Best Places to Go to Have the Bejesus Scared Out of You"
"35 minutes of pure terror."
– INsite
"What a scream!"
– Gazette Magazine