The Season of the Witch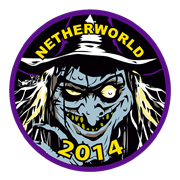 Ancient evil things from the outer void have sent the Dead Ones to destroy us for forgetting the old ways. But the Witches think they can save mankind by making us suffer! Monsters, curses and horrors beyond reckoning will mark The Season Of The Witch!
New for 2014: The Necromancer and his Army of Corpses! The Soul Seeker! The Ruins of Cronus! The Hexan Horseman! In the House of The Giant! The Primeval Jungles of YS! Chainsaw Bisection! The Laughing Corpse! Flesh Eating Mega Fauna! The Cursed! The Tomb Monkeys! Flying Warlocks! The Hidden Ogre! The Dryads! The Red Room and the Snake Dragon are only a few of the hideous things you will experience in NETHERWORLD: Season Of The Witch!
See 2014's DOWNSTAIRS Haunted Attraction SPLICED