Year 12 2008 – Carnivore and Mangler – Carnivore was a show about werewolves at war with the forces of the NETHERWORLD, the midpoint of a three year arc of famous classic monsters that had begun with Leviathan. Mangler debuted a tale of a methodical serial killer devoid of human emotion and immune to pain. The character of the Mangler became the de facto icon character of the downstairs show for years to come due to his popularity, and returned as a featured player or at least in a cameo role in all most all of the downstairs haunts from that point forward.
Check back soon for a further look into the twenty year history of NETHERWORLD Haunted House!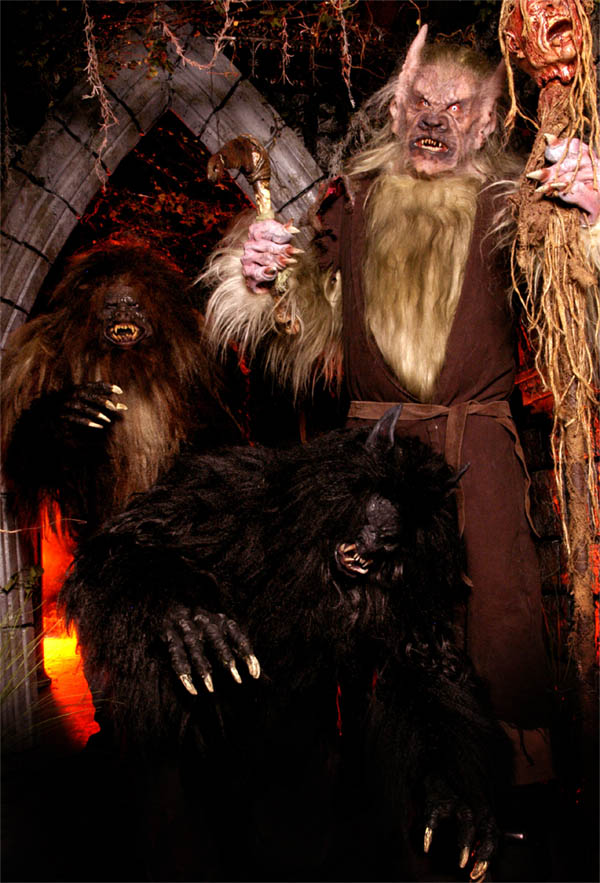 For long eons the Werewolves had stood at the top of the earthly food chain. Man thought himself the master, an illusion the wolves allowed. How much easier the slaughter when sheep were unsuspecting? But now powerful NETHERWORLD predators dared to challenge the wolves supremacy! There could be only one top dog, only one master of the world of man. In fire and blood the battle would begin here, the battle to determine the greatest CARNIVORE of all!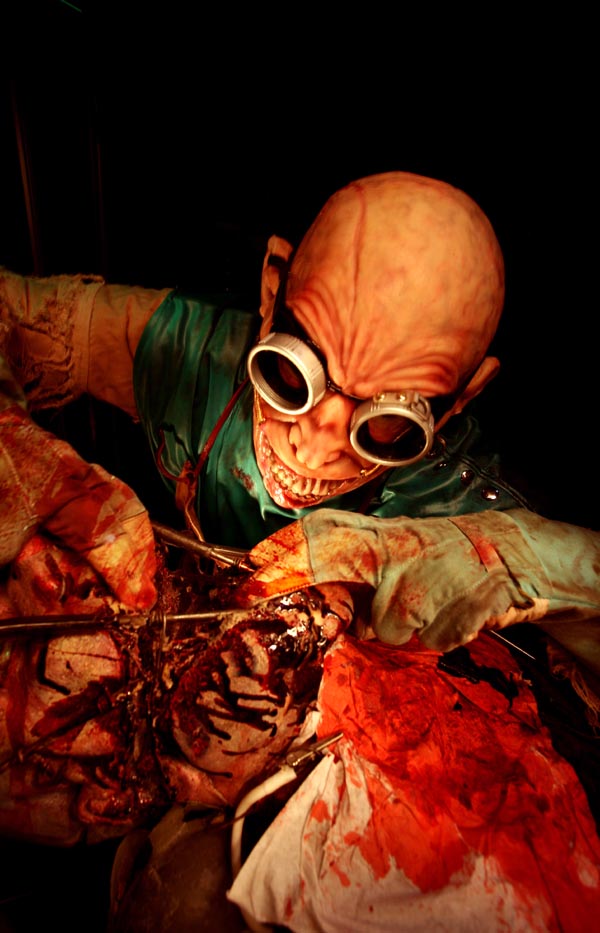 For some he is a phantom, a nightmare, a legend, a living death. But to the reporters and policemen who seek him, occasionally finding the discarded remains of his latest subject, he is know simply as the MANGLER. Enter now into his hellish domain in your quest for the truth. Will you find the answers to your questions in his twisted form, or will he find his answers in yours?
Go on, crawl down that sewer pipe…. The truth as always can be found in filth beneath us all…
Reviews from 2008
Rated one of the Top 13 Haunted Houses in America by America Online, Hauntworld Magazine/Hauntworld.com and US Airways Magazine.
"Simply put, its scope is awesome. The makeup is top-tier, the effects spectacular. It's like someone put every kind of scary movie into a living experience."
– NorthFulton.com
"More blood and screams than you can shake a severed leg at."
– Creative Loafing
"One of the best in the country, the award-winning Netherworld is akin to stepping onto a movie set."
– AJC accessAtlanta
"The attention to detail is amazing! Each room is crammed with creepy stuff."
– Girls and Corpses magazine
"It's not very often…actually NEVER…does Sneaky Sunday recommend trips OTP (outside the perimeter in Atlanta). But that comes with only one exception…Netherworld Haunted House."
– Sneaky Sunday
"…A whole new level of terror…"
– Insite magazine
"They literally have it all."
– TheHaunted.com
"Once again, Netherworld in Norcross remains my top pick."
– Ira Miller, Forsyth County News
"Netherworld: Scariest Haunted House in Atlanta"
– Fox 5 Atlanta
"Anticipate a surprise at every turn"
– Points North magazine
"This top-rated attraction is not for the faint of heart"
– Georgia magazine
"Get ready to be scared"
– Q100's The Bert Show
"The special effects at Netherworld have to be seen to be believed"
– The Real Estate Bloggers
"Netherworld is one of the world's creepiest, scariest, and down right frightening haunted houses"
– My Fox Atlanta
"You [have to] make sure you come to Netherworld; man, it's crazy. I come every year. It's the number one-rated haunt in Georgia, so don't settle for less. It's the best."
– Bow Wow, hip-hop artist and actor
"One thing about a great haunted house is not only the chills and thrills, but the actors have to be believable, too. That's why Netherworld Haunted House is my favorite in Atlanta, since you really do feel like you are walking into another…er, I mean NETHER…world!"
– Melissa Carter, co-host of Q100's The Bert Show